The holiday season is quickly approaching and I decided t compile a list of amazing gifts for those dog moms in your life, or maybe that is you! Don't fear, I'll be doing a Gift Guide for Dog Dads as well as a guide for items just for your dog as well in the coming weeks. So here a a great Dog Mom Gift Guide for Holiday Shopping.
This list will include a variety of items from clothing to accessories to housewares as well. So many great products but here is what I absolutely love or know people who absolutely love these items.
Dog Mom Gift Guide Holiday Edition
Wine and dogs totally go hand in hand. It's the ultimate relaxation option for just about any Dog Mom. Grab your bottle of wine and know you'll have a super cute wine stopped for your bottle if you don't finish it.
2. Dog Mom Tee
This shirt is cute, soft, and just perfect for those rocking the dog mom life. This business is a small business and donates 10% of sales back to nonprofit shelters/rescues to support animals. This tee also shows off that you have a dog waiting at home for you. An amazing holiday gift that gives back.
This little pouch clips onto your leash (we love these rope leashes) making it super easy to always have access to a poop bag while on a walk. It's a cute but practical gift for any dog owner.
This is amazing to have on hand. I keep one in each vehicle as well as inside the house. It's super handy to have and contains ear wipes, eye wipes, a collapsible water bowl, plus a few other items. I've also added in a tick key because I hike often with my dogs so you can add other items to it if needed.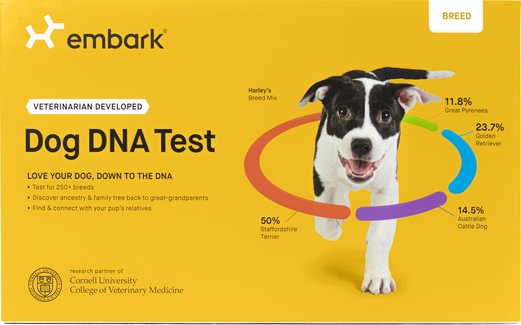 I absolutely love Embark and highly recommend it. I used it with my one rescue dog shortly after we adopted her and came to find out we did indeed have a purebred. It wasn't too shocking but I loved knowing about her health and that she is clear for everything Embark tests for. It's great whether you have a rescue dog or not. A perk to the test is that you can also find potential relatives of your dog if they have also done an Embark DNA test.
PopYourPup is amazing and they have a wide variety of items you can get with your dog's face on it. They have amazing quality canvases to socks to shirts to so much more! If you find anything you love, be sure to use our discount code BARKITPOP10 to save some extra money!
This pin is super cute and adorable and is perfect to add to your bookbag or purse. It can also go on a lanyard or anywhere else you can think of to place a cute, small pin. This is a great stocking stuffer holiday gift for any Dog Mom.
8. Real Dog Box
Okay so this might be for your dog but you will have a happier dog and a more thankful wallet with less vet visits for teeth cleanings. Seriously! These chews are single ingredient and are super helpful in preventing keeping plaque off or removing plaque if it is already on your dogs teeth. Whether you get a treat, chew, or treat and chew box be sure to use this link for FREE bag of treats.
Some helpful features of this camera is the fact you can easily check in on your dog anytime and toss your dog a treat or few. It has two way audio as well as the ability to get alerts when your dog is barking. It also saves 15 second clips so you never miss a moment while you are away from your dog.
10. Dog Mom Mug
There are so many adorable dog mugs out there but we love these. Like the shirts above, these also have 10% donated to animal shelters and rescues. They accept custom orders but also have a variety of different options to pick from.
11. Doormat
These are handmade and custom to feature your dog breed and a cute and relatable saying on it. These doormats are on my wishlist to get. They're adorable and well, I'm pretty dog obsessed obsessed myself and everyone knows it or should.
12. Stickers
This shop has a variety of items but also has quite a few cute and adorable stickers. I'm sure they can work up cute designs or other breeds that they don't have available yet. They also have some non dog related stickers among other products that are totally dog related or perfect for your dog too!
Are there any items you feel that I missed for this Dog Mom Gift Guide Holiday Edition? Let me know your favorite dog mom products in the comment section below.